Jalema filing installation kits or cabinet conversion kits are suitable for virtually any existing cabinet or rack. It is thus possible to make use of your own furniture and create your own bespoke filing solution at low cost. There are kits for installation in wooden filing cabinets and also metal ones. The kits attach as easily in a cabinet or rack as a shelf and the profile hanging bar is in the place of the shelf support. The profile is supplied to the desired length. Using the Jalema installation cabinet conversion kits filing solutions can be created easily and with minimal cost, efficient Jalema filing.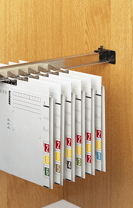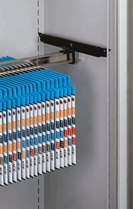 Jalema Information Management files and folders have a unique one-point suspension system in which the document folders are hung laterally on a profile. This translates into a 45% saving of space compared to traditional systems such as filing cabinets. Finding the necessary information – a source of not only irritation but productivity loss in many organizations – is a piece of cake with the Jalema system. Thanks to the use of colour coding, you can maintain a clear overview at all times and misfiling will become a distant memory.
Jalema Information Management is an integrated filing system for managing and controlling information in every conceivable form. A time and space-saving package of efficient tools tailored to the filing needs of both small and large companies and institutions that can be implemented as a partial solution or complete concept.

The essence of the system Arnato Jalema
The illustration below shows the essence of the system. A Arnato folder hanging from an iron profile. The directory includes a clever hook point. In this way, folders can simply hang next to each other. Also, take the folders easier than hanging folders and bend the ends. The system fits inside virtually any existing (archive) cabinet.
Suspend
Folder bringing obliquely to the profile.
Folder pick up on the profile.
Release folder.
Take out
Press the folder from the profile.
Push the folder up and remove.
A FULL JALEMA BROCHURE CAN BE DOWNLOADED HERE